Performances - On the repertoire

2015/1

6
Twisted
- page only in Norwegian
Crossover - music, dance, film. Suitable for age 10 - 15.
"This var artists on a high artistic level - it was varied, solid and vibrant - Thank you!",
Virik school
Munch- a journey through dance, music and pictorial art
Music- and dance performance for the whole family
Also suitable for adults
"Both music and dance gripped us all and touched and seduced us to artistic heights."
Kruseløkka school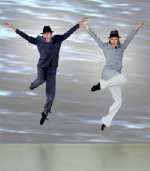 Dance for You
Music- and dance performance, for children from the age of 10

- 100.
"You showed us a new language through dance and music. You made it beautiful and humorous, with emotions and style, captivating and thrilling."
Harestua school

You and I and the Two of Us
Music- and dance performance, for children from the age of 6
"Two great artists took the audience by storm." Øvre Smaalenene (newspaper)